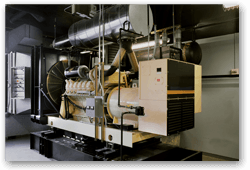 For those facilities that require backup and standby power supplies, McCabe Brothers is a licensed Florida electrical contractor that is able to design and integrate systems that allow operations to continue should a power failure occur. Whether the need is for an institution, such as a hospital or other critical medical facility, or for a commercial enterprise that relies on uninterrupted power, MBC has solutions that meet any need and financial profile.
Power can be lost to businesses for a number of reasons, including:
Natural events like hurricanes, wind storms, lightning strikes, etc.;
Capacity issues due to energy consumption of the building in relation to its capabilities;
Rolling blackouts, or grid problems at the energy provider level.
For institutions that are responsible for the health and safety of the general public, the law requires backup and standby power systems. Regardless of the stated purpose, loss of power can be devastating as well as life threatening; emergency electrical supply systems prevent power interruption from occurring and guarantee that operations proceed unimpeded.
MBC is a factory trained and authorized Kohler service and installation facility, and offers a full line of backup and standby power systems to meet the electricity demands of any organization. Our products and service include:
Diesel and natural gas generator systems
Control systems
Redundant power systems
Standby power
UPS Modules
Static switches
Automated transfer switches
Paralleling switchboards
Green technology solutions
Battery installations
Sound-attenuated enclosures
24/7 service and support
If uninterrupted power is crucial to your business operations or if it is in the best interests of the public's health and safety, the MBC team is ready to deliver a system that keeps you running.